Round trip through Munich with our chauffeur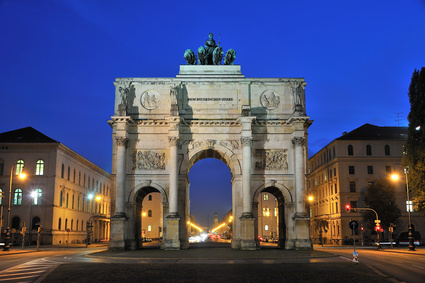 "The secret capital of Germany", "world city with heart" or "the northernmost city in Italy" are just a few euphemisms of Munich. If you are in Munich for business and if you arrive in good company in particular, you must take the opportunity to take a closer look at Munich. Our team of VECTOR3 offers the optimum service: a relaxed and exclusive tour of Munich. Sit back and enjoy the view.
Munich round trip with insiders on wheels
You don't only want to see the sights, but also want to casually buy some little things in the most exclusive shops in Munich? Or treat yourself to some coffee and cake in one of the most famous and best cafes Munich? With the limousine service in Munich by VECTOR3 you are at the right place. The chauffeurs of VECTOR3 are not only perfectly trained drivers, but also great Munich insiders, who know every exclusive corner of Munich. Our chauffeur isn't available only during the trip or transfer, he will also guide you to the sights and tell you interesting stories about the monuments. Experience a luxurious tour of Munich, enjoy the city and whatever is part of it. Let yourself be pampered by the staff of VECTOR3. You do not speak German?
No problem, all of our employees have excellent knowledge of foreign languages, so our drivers can perfectly answer all of your questions without any language barriers. Recover from the stresses of everyday life and enjoy the tour of Munich. Eat a white sausage and drink a beer in a traditional beer garden and enjoy the flair of Munich. Do you want to see the old town, enjoy the English garden or visit the Allianz Arena, the Olympic Park and the Olympic Tower, all this without the stress and the clutter of many other tourists? The VECTOR3 limousine service is right for you. Admire Munich's wonderful arrangement of tradition and modernity, of old and new, exclusivity without any effort, hardships and nervousness. With VECTOR3 you'll get to know Munich from a completely new perspective.
We look forward to meeting you – your VECTOR3 chauffeur and limousine services Munich
Vector3 is your professional chauffeur and limousine service for commercial and private driving services in Munich and Bavaria