Oktoberfest Munich – worldfamous folk festival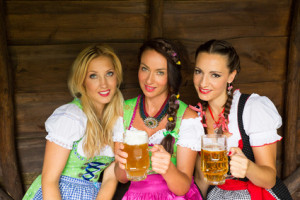 If you are on the way in Munich, right at the end of September, do not miss the famous Oktoberfest, the world's largest folk festival, which has been taking place on the Theresienwiese in Munich's Ludwigsvorstadt-Isarvorstadt since 1810th.
Not for nothing these meadows are visited by an average of 6 million people. If you want to visit the marquees, there are 14 large and 15 small ones which serve beer that comes only from Bavarian breweries. An other unmissable attraction are the 200 companies showcasing.
Arrival at the Oktoberfest in Munich
With the number of visitors you can just imagine how complicated the search for a parking lot or even for an available taxi is, an impossibility, lots of hardships on the road, and the trains are just overcrowded with people.
Oktoberfest shuttle with chauffeurs by VECTOR3
It is not pleasant to agitate through the Wiesn traffic to find a taxi will cost you time and hassle, so do not unnecessarily lose your nerves and leave the tedious work to the chauffeurs of VECTOR3, just sit back in the cozy sedan and think about what you will see first. Should it rather be the famous Ferris wheel, or a cold beer that has been officially brewed for the Oktoberfest only?
Transfer from the airport or hotel to the Oktoberfest in Munich
The chauffeurs of the VECTOR3 Oktoberfest Shuttle Driver Team will pick you up as desired from the airport or from the hotel and bring you to the Oktoberfest safely and comfortably. Of course, you will be picked up at the agreed time and date without having to wait, because punctuality is very important at Vector3. The Oktoberfest Shuttle is open to anyone's wish, so if you want to be chauffeured alone or in groups, no problem, the fleet of VECTOR3 is tailored to all needs.
Put your transfer to the Oktoberfest in Munich in our hands
With the Oktoberfest Shuttle by VECTOR3 you will arrive at the Munich Oktoberfest in a relaxed way and will be brought back. We pick you up from the airport, hotel or train station and take you to the Theresienwiese comfortably . Of course we will pick you up after your stay there and bring you back safely. If you still have interest to do more sightseeing after the festival, no problem, our chauffeurs are available for any your request.
If you have any questions call us at 0800 – VECTOR3 or 0800 – 83 28 67 3