Car Promotion Service by VECTOR3 in Munich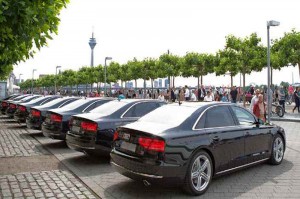 You want to prepare an unforgettable event for your company, or a kind of promotion, a promotional event, and you need the right vehicle, if not even an appropriate fleet of vehicles, or you already have the right vehicle and need the corporate stickers on the vehicle as well as professional drivers. With the Car Promotion Service by VECTOR3 you are in good hands. Our exclusive fleet, our fleet management network and our professional staff are available for your event. Upon your request we'll cover the vehicle or the entire fleet with your stickers and put it on display following your instructions.
Show yourself or your business from the most attractive side, we'll make the car just as you wish. Through intelligent and well-designed ads you can increase product affinity of customers and interested parties. The Car Promotion Service of VECTOR3 is perfect for the promotion of your company, your products or your event at exhibition stands or on special occasions. With little effort, your business will be at the center of the event. If you already have your vehicles in Munich, we'd be happy to offer you the service of our drivers.
The chauffeurs of VECTOR3 take care of the vehicle, and with our partners we'll take away the stress from you and take care of everything, starting from the cleaning of the car before the promotion, the measurement, the pasting of stickers on the car and the cleaning after the event, whether it is our or your personal vehicle. Our employees are of course excellently trained drivers, so you do not have to worry about the safety of your vehicle. The drivers of VECTOR3 also distinguis themselves for their professionalism and discretion, trust the Car Promotion Service of VECTOR3 without concern. Stand out in the crowd, use your vehicle for the kind of promotion and advertising that your business deserves. Car Promotion is the ideal way to increase the product and brand affinity of your customers, employees and stakeholders. If you are accustomed to perfect and professional service, then VECTOR3 is the ideal partner for you.
We look forward to meeting you – your VECTOR3 chauffeur and limousine service in Munich
VECTOR3 is your professional chauffeur and limousine service for commercial and private driving services in Munich and Bavaria